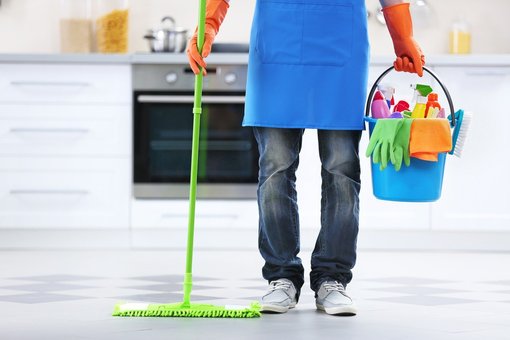 You might have this thinking that I do cleaning myself or have maids to do so then why do I need to outsource it to a professional cleaning company?
The hard truth is no matter how much attention you pay, your eyes might skip some area where dust settles or grime gets collected.
On the other hand, professionals have a keen eye to detailing as it's their daily job. Professional cleaning company trains its employees on regular basis about the deep cleaning.
They also get hands on experience on daily basis. So it's always the best option to go to a professional cleaning company when it comes to deep cleaning your lovely house.
First, go through our other article 'Why Do You Need A Deep Cleaning?'
Speciality of a professional cleaning company
When we say outsource your cleaning task to us, we don't just mean it but we have many reasons to say so. The house maids are not capable of doing the deep cleaning tasks.
Few people get the deep cleaning done from the maids but they need continuous supervision. Professionals do not need any supervision to do.
Here are the specialities of professional cleaning companies like us.
Right tools: Professional companies have right tools and equipment required for a deep cleaning task. They have state of the art machineries and the chemicals from one of the leading brands. (At Dirtblaster, we use chemicals from worlds famous companies like Diversey or Buzil-Rosarri.
Training: Professional cleaning companies provide training to their staff on periodic basis. The staffs are experienced and experts in their job whereas either you or your maids are not supposed to be expert in deep cleaning.
Service guarantee: They are called professionals because they really are. These companies normally adhere to their commitment and make sure that the customer is satisfied with their service. They adhere to time schedule, their checklist and the promises they make.
Easy booking: Normally all the professional companies have their websites or apps. Customers can easily book an appointment by calling them, by filling the booking form on their website or by sending the mail.
(You can book an appointment with Dirtblaster by filling this form)
Easy payment: There are many types of payment modes other than traditional cash payment method that professional cleaning companies accept such as wallets, UPI, credit card, debit card, net banking etc.
Problem resolution: If you face any difficulty in the process right from booking till the payment, these companies have a dedicated customer care department where you can call and get the resolution.
Check our article on 'Difference Between Home Deep Cleaning & Normal Cleaning' to understand it in detail.
Benefits of outsourcing
Outsourcing cleaning tasks of a property is increasingly becoming a trend these days.
Outsourcing the cleaning ensures that you focus on what really matters to you.
Outsourcing home deep cleaning services in Pune allows you to have more family time or me time.
Commercial establishments outsource cleaning to professionals so that they can focus on the things that are more profitable to them.
Here are few top reasons to outsource deep cleaning.
It saves money: We say cleaning is a loss of opportunity for you to focus on more valuable things in life. You can focus on more productive things which can add value to your life.
Businesses can focus on their core things instead of cleaning. You can purchase high end machines or chemicals but you will use it very rarely. It is an unnecessary investment for you to do.
It saves time: Doing cleaning job by yourself is a time consuming task. You are spending your time which is more valuable than money. Outsourcing saves time for you.
It saves unwanted investment: Professional chemicals and state of the art equipment are quite expensive. Professional companies have all the chemicals and tools required for a deep cleaning at their disposal.
You either can't have all these or even if you purchase it, it's waste of money as it will not be used to its full potential. Your money gets stuck.
It reduces risk: Deep cleaning requires you to reach out to areas where you normally can't reach. You might use a ladder for this. But getting on the ladder and climbing to a height may increase the risk of falling.
Entire house deep cleaning requires climbing on the ladder multiple times. You may fall down or may feel extra strain in your muscles. Professional cleaners are used to such risky tasks and hence can do it with ease.
It protects your health: As we all know, a clean environment is very much necessary for our good health be it outside or inside of a property. Dust causes allergies and spreads bacteria into the environment.
Deep cleaning takes out the dust to make the air more clean inside the house. Similarly, you may have to deal with dust and grease while cleaning by yourself which may result into health issues for you or for your family members too.
On the other hand, professionals take proper precaution so not to spread the bacteria into the air.
Variety of cleaning: Deep cleaning is not just dusting and wiping. Deep cleaning is not just mopping. It's more than that. It includes windows, washrooms, kitchen, balcony, bedrooms, and living room. It also involves all sorts of details of all those places.
The house flooring can be of different types such as wooden floor, quarantine floor, vinyl floor, quartz floor, marble floor, granite floor etc.
Also there are different types of chemicals used in home deep cleaning such as all purpose cleaner, furniture polish, degreaser, disinfectant, tile cleaner, toilet bowl cleaner, floor cleaner etc.
How many of it you can remember or how much can you purchase or store. It's best that you rather outsource these hazards to a professional company.
So go ahead and call us on 7350321321 to book your next deep cleaning appointment with us.
You can visit Dirtblaster Cleaning Services to book the appointment.