BATHROOM CLEANING SERVICES IN PUNE
It's no secret that keeping your bathroom clean is no easy feat… especially if you have children. There are a lot of things to consider when it comes to bathroom cleaning services in Pune.
It can be a challenge, but when you use appropriate products and tools and follow a good strategy, cleaning will be remarkably easier.
Most of the people don't like cleaning that much. Cleaning is not the easiest or enjoyable job in the world.
But still it is important to keep your surrounding area neat, clean & hygienic especially your toilets.
House help is not really trained and is somewhat unreliable, maybe not as hygienic as you would like them to be.
Must you spend your precious holidays scrubbing, cleaning and expending serious labour when you would rather relax, recharge and spend time with your family?
Importance Of Bathroom Cleaning Services In Pune
There are germs and bacteria all over your bathroom. Your toilet seat, shower glass, hand shower, jet spray, door knob, basin, taps are all infected.
Mildew in the tub or shower is more than just an annoyance. It's almost unbearable looking at those dark green and black stains in the corners of the tub.
You can't even enjoy a nice hot shower because the only thing on your mind is how to get rid of the mildew build-up in the corners, cracks and crevices.
If your bathrooms are not cleaned properly and in the right way, extra moisture will lead to formation of mold, mildew and bacteria.
Here are few points which stress the importance of bathroom cleaning.
A properly cleaned washroom will make sure that it is 100% germ free. This will avoid spreading of germs to other parts of your house.
When your washroom is not cleaned for long, it starts smelling bad. Presence of high moisture in the washroom causes it to smell dirty and musty.
Normal cleaning or cleaning done by your maid is insufficient to properly clean the corners. These nasty corners will lead to formation of mold and fungus. So get on top it by deep cleaning your bathroom.
The often neglected parts in normal cleaning are rim of the commode, base and back side of commode, grouting of the tiles, drain catcher, under the bathroom mats, inside of the cabinets and door. Bathroom Deep Cleaning Services in Pune will make sure that all these often neglected parts are thoroughly cleaned leaving no bacteria.
When you have a clean and tidy washroom, you will spend less on maintenance. There will be less frequent chances of leakages and blockages.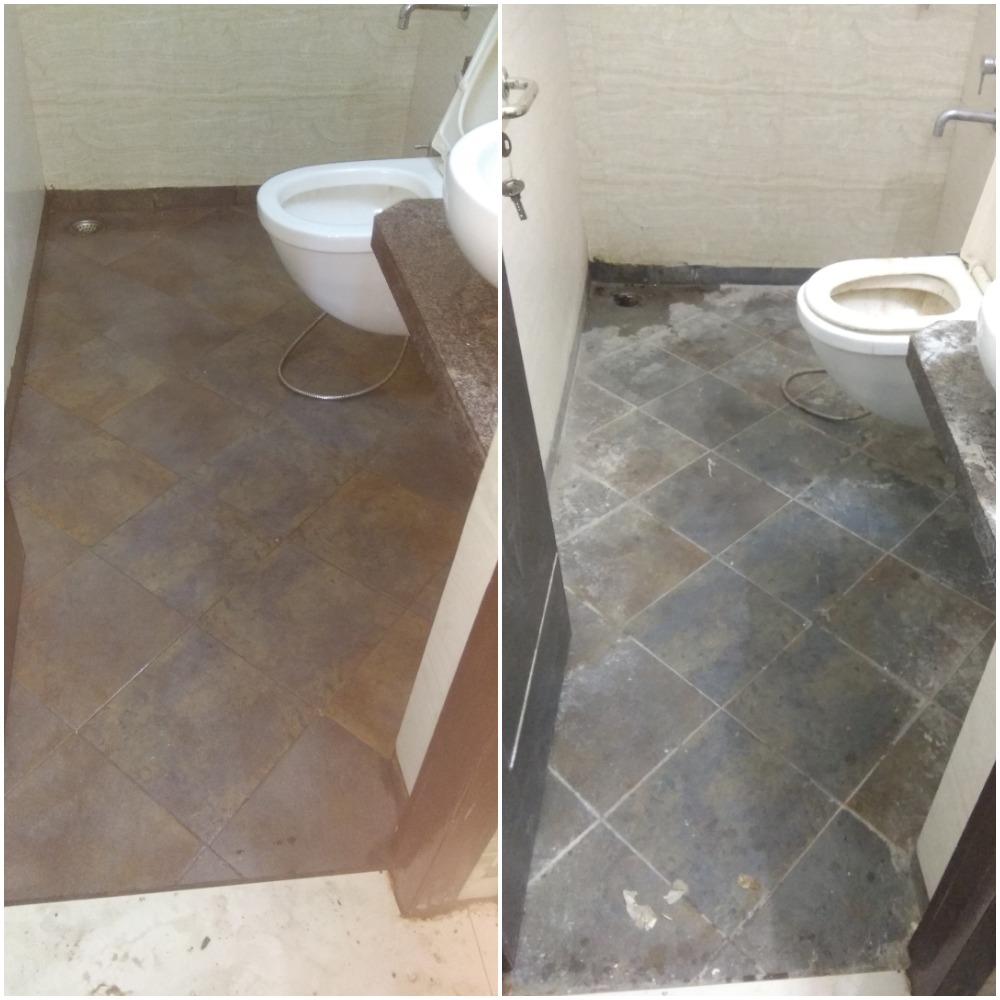 Why Us?
Dirtblaster Cleaning Services provides you with refreshing bathroom cleaning that extend the life of your fixtures and is safe and healthy for kids and senior citizens.
We will send a professional bathroom cleaner to refresh and clean your washroom, bringing new life to your living space.
We use industry grade chemicals from world renowned company such as Diversey and other tools we use are also of highest standards.
All our team is in house only and our team members are trained and experienced.
We verify the background of all our staff before hiring.
Before start of the job we provide the estimation for the task to avoid any last second surprise for our customers.
We guarantee 100% satisfaction on all our services.
Our Janitorial Cleaning Services in Pune are good enough to clean the deepest hard water stains, gentle enough not to damage anything and safe for your entire family.
Dirtblaster Washroom Cleaning Process
We think you would be interested in knowing what all things are included in Toilet Cleaning Services In Pune. Cleaning may not be so enjoyable to you but any kind of cleaning task is always enjoyable for us.
We feel the pride when we convert the nasty tiles into sparkling one and see the customer's happy face.
So here is the step by step process we follow while cleaning any bathroom.
1. Take out all stuff
To make the cleaning process easier for us, we remove all the items from the bathroom before starting the cleaning process.
When the items are inside the bathroom, it hinders the cleaning process. As we clean the bathroom thoroughly, the items have to be moved out at once.
We ask the customer to remove any clothes or delicate items by themselves.
Remaining items such as soaps, shampoos, other such bottles, toilet paper roll, toilet brush, bath towels etc is kept outside the bathroom.
2. Remove cobwebs & dust
The next step is to remove cobwebs and dust from your washroom.
Cobwebs from the ceiling and corners are removed first.
There is loose dust on the window of the washroom which needs to be removed first. There may be debris or bird droppings on the outer side of the window.
We remove that first using microfiber duster.
3. Apply chemical
We now apply the toilet bowl cleaner to the toilet bowl and the wash basin. This is a special chemical we use which is very effective in removing the nasty yellow stains you see on your commode.
The same process is repeated if there is shower glass and bath tub.
We leave this chemical for 10-15 minutes or may be longer as per the condition of the bathroom.
4. Clean other surfaces
While the chemical applied on commode, wash basin, shower glass and bath tub is doing its work, we clean other surfaces such as tiles, taps, geyser etc.
We will clean the window glasses and its frame carefully.
For this we will use an all purpose cleaner.
If required, we scrub the things and dry it out with a microfiber duster.
Now we will clean the bathroom door, door frame, door hinges and door handle thoroughly.
5. Top to bottom approach
As per international standards, we implement top to bottom approach for cleaning.
We will clean the geyser and its switchboard first. And its wire too.
After the geyser is cleaned, we will clean the exhaust fan too. We clean the fan and the frame of the exhaust fan.
Then we will clean wall tiles and then floor tiles.
6. Clean wall tiles
Next step is to clean the wall tiles. We will use tile cleaner chemical for this step.
Tiles are scrubbed from top to bottom one tile at a time. The purpose of this scrubbing is to remove the stains and dust thoroughly.
We scrub the tiles using scrub pad in circular motion so that no spot is missed and the tiles are scrubbed in detail.
If there are certain stains which are not removed with the scrub pad, we will use a scraper for the same.
While cleaning the wall tiles, we clean the towel hangers, soap stands, switch boards, bulbs, tube lights, cabinets too.
7. Clean commode, shower glass, basin & bath tub
Now we will start cleaning commode, bath tub and shower glass to which we had applied the chemical at start.
We will scrub these with a scrub pad thoroughly. Our focus is to clean along the rims, back side of the commode, back side of the basin, both the sides of the shower glass.
Sometimes it is very difficult to remove the hard water stains from commode, bath tub, shower glass and wash basin. In such case, we will repeat the process one more time.
8. Clean taps & mirror
Now we will clean the taps, jet spray, shower spray, mirror glass etc.
We use a special liquid for this. The aim is to remove the water marks and hard water stains from the taps and mirror.
We are very good at removing the toughest stains from the taps and mirror.
9. Clean the floor
Now as everything is clean, we will clean the floor at last.
For this we use tile cleaner and scrub the floor manually. This helps in removing any mildew, soap scum and mold.
Corners are scrubbed and the grouting too to make it perfectly clean.
We clean the drain catcher (jaali) too. We will clean the jaali and will discard the hairs and other stuff stuck into it.
Now we will remove all the water from the floor using a wiper and make your washroom dry.
We suggest not to use the washroom for at least 30 minutes post our cleaning.
How much does it cost?
Hard water is the number one enemy of any bathroom.
When we use the washroom, the water remains on the floor, wall tiles and on taps. After some time, the water evaporates and what remain are the mineral deposits. These deposits keep on adding on our tiles and taps and will form a thick layer after some time.
Also, our tile grouts become dirty with mold, mildew and fungus over a long use.
In such cases, normal cleaning or maid cleaning is not sufficient and you should go for professional bathroom cleaning services in Pune.
At Dirtblaster, we provide all kinds of cleaning services at affordable prices.
Our charges start from Rs. 499 per bathroom only.
We bring our own material and do not use customer's products like any other local companies do.
Our professionals ensure to make your bathroom sparkling clean with our honest efforts.
We also have monthly bathroom cleaning package. To know the more details, call us or visit our website www.dirtblaster.in/contact-us
How often should it be done?
The frequency to clean your bathroom is entirely one's own decision but we would suggest considering following points before deciding the ideal frequency for you.
Water is used every time you use your bathroom. After your use, the water remains there and it forms stains on the surface.
These hard to remove stains cannot be discarded completely with your regular  cleaning.
Also the germs spread into your bathroom all over. Germs settle on your wall tiles, backside of commode, backside of wash basin, under the basin, taps etc.
To remove these germs and hard water stains, mold and mildew, it's better to scrub the surfaces once in a while.
For this reason, it's always better to go for bathroom deep cleaning services from professional services.
You may ask how often should bathroom cleaning be done?
Consider regular cleaning of your bathroom on daily basis. In this you can clean commode, basin and dry out the shower glass and floor on daily basis.
But as you know this normal cleaning won't be sufficient, you can consider getting your bathroom deep cleaned.
We suggest going for deep cleaning once in every 3 months.
If yours is a nuclear family with maximum 4 people including a couple and 2 kids, that means your bathroom is not extensively used. In such case, you can do bathroom deep cleaning once in 6 months.
How much time does it take for bathroom cleaning?
We have mentioned our detailed procedure of how we clean a bathroom. As you can see it is an extensive procedure. So it does take time.
Normally it takes approximately 45 minutes to 1 hour to clean a bathroom. But in some cases with lot of stains and lot of work to do, it may take longer.
Our focus is always on giving our customers the best service possible no matter how much time it takes.
How much does it cost for bathroom cleaning?
The cost of cleaning a bathroom depends upon few factors. These factors are size of the bathroom, how dirty the bathroom is, does it have bath tub, shower glass etc.
Not all bathrooms have bath tubs, shower glass etc. So we charge extra for the bathroom which have bath tubs and shower glass or if the size of the bathroom is more.
The cost of cleaning a bathroom starts from Rs. 399 only and up as per the above mentioned conditions.
We keep transparent pricing always and will tell you the cost upfront before starting the job.
FAQ
Q. How many people do you send for bathroom cleaning?
A. We send 1-2 people for bathroom cleaning depending upon the number of bathrooms to be cleaned.
Q. What are the exceptions to your bathroom cleaning package?
A. We clean everything including tiles, mirror, taps, commode, basin door, window etc.
The only exception is we do not clean the walls of the bathroom if there are no tiles on it.
We may charge extra for wall cleaning.
Q. What preparation should I have to do beforehand?
A. The customer is expected to empty the bathroom in advance. We want the customer to take all the stuff out such as clothes, soap, shampoo bottles, other bottles etc.
We also need the cabinets to be emptied beforehand so that we can clean them from inside.
Q. How much time will it take?
A. It takes approximately 45 minutes to 1 hour for cleaning. In some cases, it may take longer or lesser time.
Q. What does customer have to provide?
A. We bring our own material, chemical or equipment required for bathroom cleaning.
We just need a stool or ladder, electricity and water supply from the customer.
Q. Can you remove all the stains in my bathroom?
A. All our staff is highly trained & experienced in cleaning tasks. The chemical we use are of very high standard. And the procedure we follow is the top notch process in the industry.
This should be enough to make your bathroom super clean. But still there are some types of stains which can't go in one cleaning. Repetitive cleaning might be required in such cases.
Dirtblaster will relieve you of the tension and hassle with the use of specialised cleaning products and equipment. Advanced machinery, safe chemicals and trained verified technicians will give you a sparkling new germ free bathroom/toilet in a surprisingly short while. The health and wellness benefits are so worth it.
At Dirtblaster, we ensure that your bathrooms and toilets are cleaned with most advanced equipment and machinery and safe, specialised chemicals for results that will make you smile.
For bookings, call Bhushan on 7350321321 or visit www.dirtblaster.in