Though words housekeeping and house cleaning are used interchangeably, there are many differentiating factors between them. Some of the tasks of a housekeeper and a house cleaner overlap with each other. But majority of tasks these two perform are widely different than each other.
So, let's find out the difference between housekeeping and house cleaning.
Housekeeping
The Housekeeping term is more relatively used in hotel industry. Housekeeping is also referred in relation with other commercial properties such as offices, malls, hospitals, schools, commercial complex, residential housing societies etc.
Housekeeping services normally includes daily cleaning, maintenance of hygiene, decorations and tidying up the entire property.
Though cleaning is essential part of housekeeping, it doesn't not involve through cleaning.
Housekeeping service is not only cleaning but it involves many other tasks such as doing laundry, ironing, folding clothes, running errands for the client. Housekeepers are hired for light duty work.
Commercial properties such as malls, IT offices and residential societies outsource their housekeeping tasks to housekeeping agencies. Housekeeping services with related to a house is normally a house maid.
For commercial properties in India, housekeeping staff is supposed to do the tasks such as collecting garbage, segregating garbage, internal property sweeping and mopping, internal road sweeping, cobweb removal, office desk cleaning etc.
Some housekeeping agencies are also asked to do the tasks such as reception management, attendance management, payroll management etc.
Housekeeping Tasks
Daily sweeping and mopping
Furniture wiping
Washing, folding and ironing
Changing bedsheets
Removing garbage
Organising closets and drawers
Making food
Running errand tasks
Other tasks asked by the owner
House Cleaning
House cleaning professionals majorly focus on cleaning tasks only. They have a fixed schedule. They arrive on time along with their own material and industry grade tools and perform their task.
House cleaner may be an individual or a team. Cleaners are normally in the property for a specific period of time.
House cleaners can be an individual or a professional deep home cleaning services company. If you are looking for top to bottom cleaning for your property then it's better to outsource it to professionals.
House cleaning is also called as a deep cleaning.
Deep cleaning for a commercial property may include window cleaning, washroom deep cleaning, floor scrubbing and polishing, sofa shampooing, chair shampooing, office carpet cleaning etc.
House Cleaning Tasks
Removing cobwebs
Cleaning fans, tube lights, switchboards
Moving furniture and cleaning from all the sides
Scrubbing balcony floor
Vacuuming window tracks and mosquito net
Scrubbing bathroom floor and wall tiles
Descaling taps
Disinfecting commode and basin
Shower glass cleaning
Degreasing entire kitchen including chimney, tiles, platform, trolleys & cabinets
Sofa/Chair cleaning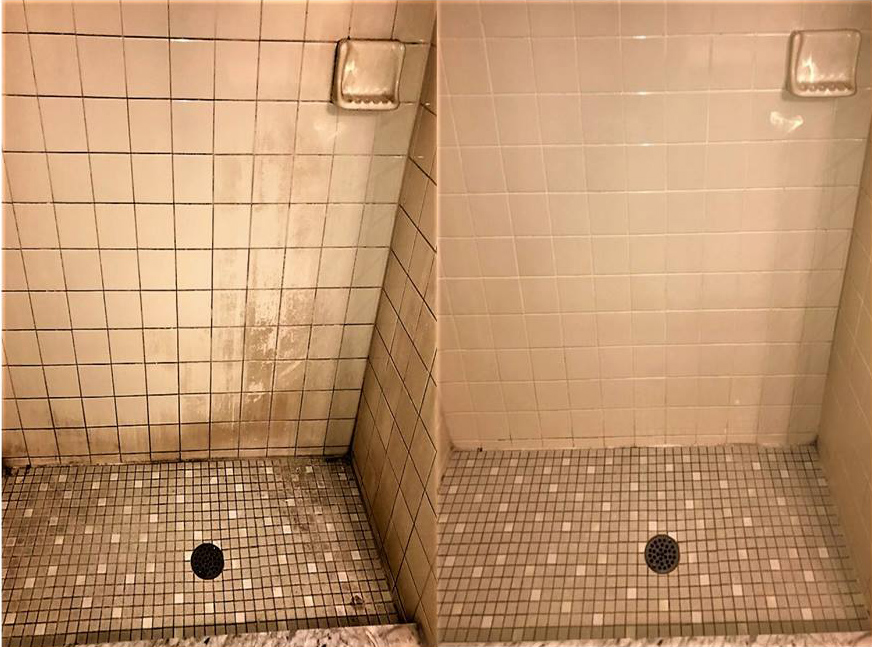 Example 1- Let's look at it with respect to kitchen cleaning:
Housekeepers will do the following tasks in kitchen
Mopping the floor
Scrubbing the sink
Removing marks off the walls and cabinets
Wiping the stove-top
Wiping the appliances
House cleaners will do the following tasks in kitchen
Scrubbing the floor
Degreasing the trolleys and cabinets inside out
Scrubbing kitchen platform
Cleaning and degreasing exhaust fan and chimney
Deep cleaning appliances inside out
Example 2- If you have house where you stay in it for a very specific period of time once in a year then hiring a deep cleaning agency to clean it may be the best idea.
The dust gathered for the entire year can't be removed by a housekeeper alone. Deep cleaning professionals with their tools and chemicals, will be able to take out the dust and stains which can't be handled by a housekeeper. You can get the original look of your house back in such case by spending some extra bucks on a house deep cleaning company.
(You can check our article to know why outsource deep cleaning to a professional cleaning company?)
At DirtBlaster, we have a team of trained professionals for the deep cleaning job. Our professionals are expert in home deep cleaning, kitchen cleaning, bathroom cleaning, window cleaning, sofa/carpet cleaning, office cleaning etc. Our team has a keen eye to detailing when it comes to deep cleaning.
DirtBlaster Cleaning Services is the most trusted, reliable and affordable Home Deep Cleaning Services In Pune. We also deal into herbal pest control & painting services.
You can call Bhushan on 7350321321 or visit www.dirtblaster.in for bookings and great discounts.